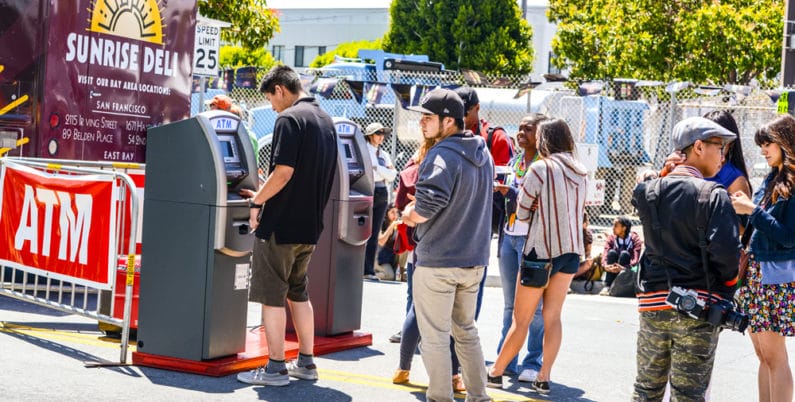 Why Rent an ATM for an Event
Planning and organizing any event is a long, stressful and intensive process. There is a lot of work to be done behind the scenes, as well as making sure that you earn money. You also need to ensure everyone is safe and that all the people involved walk away smiling having had a great experience.
For many festivals, concerts, fairs and other events its financial success depends on the ability to attract vendors.  These vendors pay for a spot and of course, but they want to make money while they are their.  There is big money in merchandise, food and drink, clothes and other festival ´souvenirs´ and most of the people who sell these are sole traders or small businesses.  Some may have card machines, but many only operate in cash.  Cash is King.
There are so many things to consider, that often, the provision of ATMs to your customers can be overlooked. However, this can have a big impact on the success of your festival.
Why Rent ATM's?
When you are hoping for people to spend money, a big consideration should be about how they will spend money. The easier it is for them to pay, the more likely they are to spend, and the more they spend, the better for you, and of course the happier the vendor (and the likelier they are to come back next near!).
There are many reasons why it is a great idea to have temporary ATMs at your music festival, including:
People are more likely to spend on smaller things such as food and drinks if they have cash in their pocket as opposed to a card
Punters will not have to walk around the whole week/weekend with large amounts of cash in their pockets, which can get lost or stolen
A lot of sole traders or vendors only accept cash
You will generate cash flow within your festival
Research shows that 80% of the money taken from an ATM machine at an event is spent right there and then at the event. This means that your vendors will be happy, and consequently, you will be.  It means that you will be happy thanks to the extra opportunities to make money – with minimal effort. So to have ATM machines or to not have ATM machines at your music festival? Well, it really is a no brainer!
ATM America ATM Rentals
Our ATM rentals are secure, convenient and reliable! Renting an ATM from ATM America provides you with numerous benefits that include:
Provides guests, event-goers and customers with instant access to cash
Prevents your guests from leaving the event for money
Reduces the need for checks and decreases NFS fees for returned checks
Reduces credit card/POS processing fees and expenses
Increases and enhances customer satisfaction
Increases foot traffic for you event merchants, vendors and retail booths
Reduces stress as we manage the ATM's and provide maintenance and cash loading.
Increases Overall Event Revenue
ATM America is the ATM provider that can meet your needs! Our ATM rental units feature the latest security technology and do not require phone lines as they have innovative wireless connectivity. On top of that, you'll get everything you need for smooth operation, from ATM equipment and cash to on/off-site monitoring. These features allow you to strategically place your ATM rental wherever it is needed and our onsite technicians can periodically check the ATM for added assurance.