ATM America specializes in ATM Rentals and Mobile ATM's. Our ATM's are wireless and allow us to monitor them to make sure that they stay maintained and full of cash for your event. Our ATM rental solutions are ideal for Fairs, Festivals, Carnivals, Concerts. As well as Trade Shows, Conventions, Parades, Parties and any other event. We install, monitor, service, and maintain the machines through the entire event. Our professional and courteous staff will make sure that your will get your ATM for your event. Call us and book an ATM TODAY!!!!
Mobile ATM's are Ideal For
Festivals
Carnivals
Rodeos
Conference
Convention
Fairs
Concerts
Tradeshows
Parades
Parties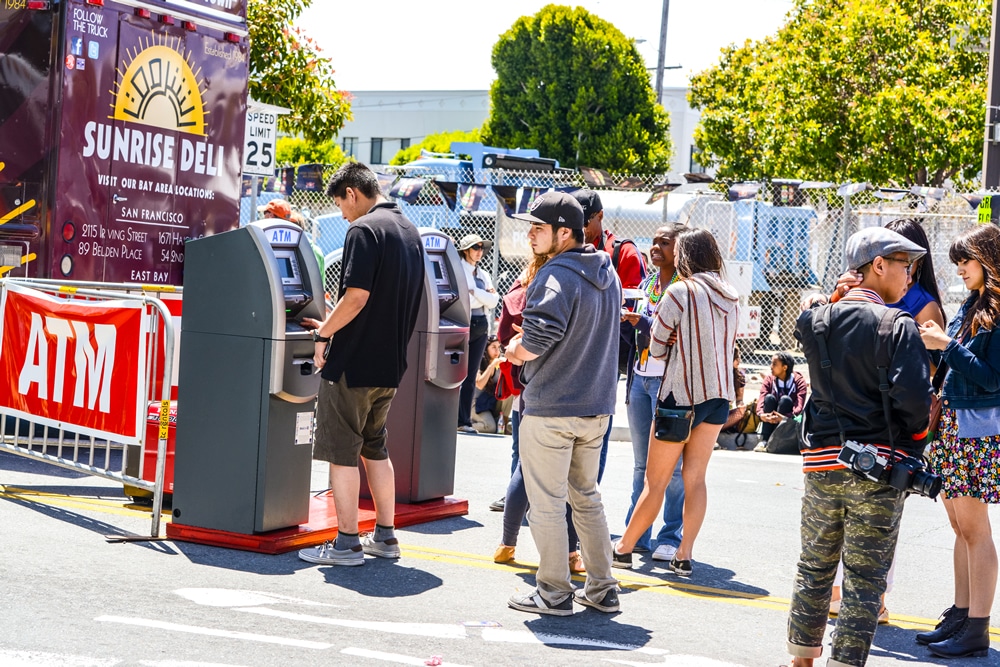 We offer the easiest Mobile ATM experience in Texas. We provide all necessary equipment for events. Our wireless modems offer the fastest 4g ethernet connection available. This reduces lines, and increases productivity for your event. Our experienced on-site technicians ensure that every mobile ATM is on-line and dispensing cash. Throughout the duration of each event, we monitor, maintain, and service the ATM'S without an interruption of service to your patrons.  Our experience and operating procedures ensure continuous ATM service during your busiest times. Call us for our ATM Rentals!!
Mobile ATM Advantages and Benefits:
Guest convenience – The event attendees will want you to have one, and many times, it's expected. Mobile ATMs provide convenient access to cash and make it easier for people who attend your events.
On-site cash equals more profits – Having a mobile ATM will Increase consumer spending. Most of the money withdrawn at the event stays at the event. This increases the profit margins for vendors at the event.
Mobile ATMs keeps attendees at the event longer –  If attendees leave your event to get cash, you risk them not returning. Keep your event attendees at the event. Allow them to pull cash out while making a portion of the transaction fee.
Cash is King: You won't have to worry about issues like bad checks, chargebacks, and disputes when dealing with cash. All sales are final with cash.
ATM Rentals Quick Facts
75+% of money dispensed from the mobile ATM is spent at the actual event.
Vendors unable to accept credit cards will now see increased sales with a mobile ATM on site.
All ATMs are set up, stocked with cash, monitored and removed by our professional team.
All Mobile ATMs are highly visible. This allows all event attendees the ability to look in any direction and find the nearest mobile ATM.
Wireless mobile ATM machines can be placed anywhere at your special event.
Remote monitoring gives us the ability to monitor the ATMs and the level of cash available at all times. This allows us to ensure that our machines will not run out of cash at your event.