Dallas – Fort Worth Metroplex
ATM America Provides the Dallas – Fort Worth – Arlington Metroplex ATM Services
ATM America provides ATM services in the Dallas, Fort Worth, Arlington, Flower Mound, Denton, and Mesquite Texas areas.
This page is for our Dallas – Fort Worth Metroplex ATM services in the "Big D" and  "Cowtown" and surrounding communities.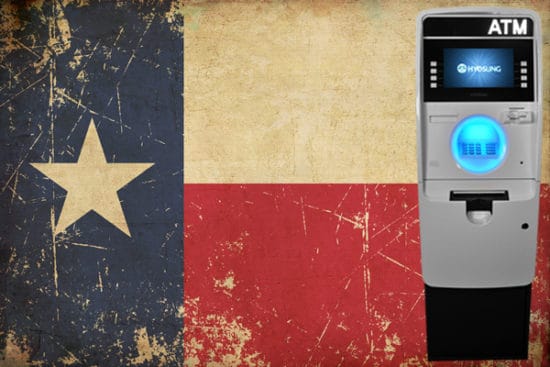 Great Automatic Teller Machine Locations
Does your business require cash transactions or is better with cash purchases? Perhaps there are businesses near by that are cash based. Do you have customers or clients who regularly ask, where's the ATM machine? There are many businesses that are types of businesses that benefit from a cash machine. For example hotels, zoos, event facilities, convention centers, stadiums are excellent locations. Automatic teller machines are also excellent for bars, restaurants, casinos, gentlemen's clubs. Laundromats, liquor stores, convenience stores, and amusement parks are potential automated teller sites. Bowling alleys, airports, pool halls, movie theaters, nightclubs can benefit from a cash machine. Also shopping malls, country clubs, speedways, gas stations and many more may need a ATM!
Find Out More
Our ATM Services
ATM America's Full-Service Placement Program offers you a hands-off solution to making additional revenue. The extra revenue is created with  providing your business with a Free ATM.
Our Partnership Program offers more profit per transaction. Works well for owners that want more involvement without having to purchase an automated teller machine.
ATM America Sells New machines at wholesale cost and is one of the leading independent dealers/distributors of automated tellers in Texas. Through our Purchase Program, our machines come configured and programmed. You will be ready for operation right out of the box.
Our staff of professionally trained technicians are on call 24/7 to provide maintenance and service.
ATM America's Transaction Processing enables our merchants 24/7 access to their processing data. All our clients are provided their own data tracking website enabling them to monitor and analyze their data in real time including terminal status, cash levels, transactions and more.
Without sufficient cash, in your ATM you're not making money or satisfying your customer's needs. With our Cash Loading and Management services, your machine will never run out of money.  Your automated teller machine's cash is provided by our Vault bank in a Armored Carrier.  We even do forecast management to make sure your machine is full.
Our ATM America—Dallas – Fort Worth service area covers approximately anything with 100 mile radius
of Arlington, Texas.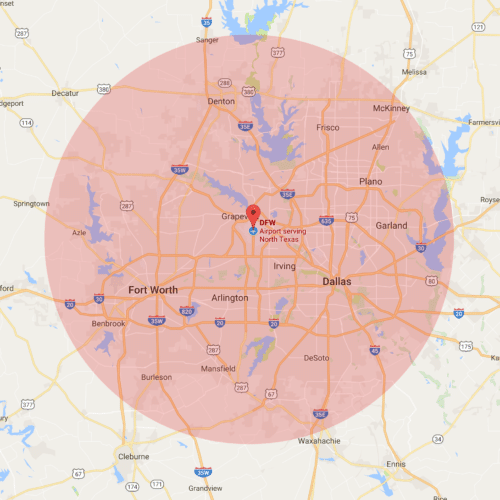 If your location is not within this service area, we may still be able to help, Contact us today to find out!
Our ATM Service Areas
Dallas ATM
Get an ATM for your business in Dallas. Including areas of University Park, Highland Park, Lower Greenville, Oak Lawn, and Uptown. Peston Hollow, Northwest Dallas, Vickery Meadow and North Dallas are additional Dallas ATM areas. Fair Park, Cockerel Hill and Duncanville are other locations for an automatic teller. Consider a cash machine near Southern Methodist University, The Dallas World Aquarium, Reunion Tower and The Galleria. North Dallas, South Dallas, West and East just contact us to learn about our placement programs.  Deep Ellum, The State Fair and American Airlines Arena are ideal automated teller machine locations. Dallas ATM services  are offered to the great city known as the Big D.
Fort Worth ATM
We provide ATM services for businesses in Fort Worth. This includes areas near Sundance Square, Stockyards and West 7th Street. We install Fort Worth ATM's for all types of businesses in downtown. Such as hotels, restaurants, major sports stadiums, bars, entertainment venues, offices and many more. Consider automated teller machines at or near Texas Christian University or Texas Wesleyan.  Ridglea Hills, Westover Hills, River Oaks, Fairmount are all great locations for machines.
Arlington
Our company manages ATMs for locations around Six Flags of Texas, AT&T Stadium, and Global Life Park in Arlington. Lone Star Park and Kennedale as well as Southeast Arlington are locations that we service.
H-E-B
ATM America supplies automated tellers for hotels, gas stations, malls and other establishments near the Hurst,Euless and Bedford area. Including the Richland Hills and Haltom city areas.
Grapevine
We offer our services to Grapevine, Southlake, Colleyville, and Keller areas. We offer cash machine programs in Coppel, Valley Ranch, Las Colinas and Farmers Branch.
North Dallas
ATM America installs machines in the communities surrounding the North Dallas area including Plano, Addison, Carrolton and Garland.
Dallas – Fort Worth Airports
We operate automated teller machines for hotels and the hospitality industry around the DFW Intercontinental Airport. Located north of Arlington, TX. We also operate ATM's in the Love Airport area. Both in and areas surrounding the Airport in Dallas.
Denton
We deploy automated teller machines for locations in and around the Denton area. Additionally, we serve the surrounding areas of Texas Women's University, North Texas University, Lewisville and Lewisville Lake. Learn about our services for the Northern Metroplex area.
North Metroplex
We place ATM machines in Frisco and Mckinney. In areas including Allen, Fairview and Prosper. Consider automated tellers for establishments such as hotels, tourist establishments, resorts, live music venues and more.